Matcha is a superpower green tea made of only natural tea leaves that have been shaded-grown and grounded into a delicate power. The best Matcha comes from Japan.
For centuries in the East, Matcha has been recognised as a medicine for the mind, body & soul. Japanese monks descirbed Matcha as a 'healing medicine for a healthy life'. Modern science of the West has recently confirmed this by exposing its powerful antioxidant, amino acids & vitamin levels.
Why? Because of the way that Matcha is prepared.
---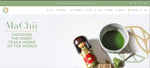 We are here to present new look and feel for the Machii Tea, bringing all the flavors